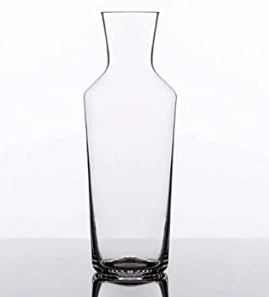 I received this message upon returning home from holiday.
"If you had $100 to blow on kitchen stuff on Amazon what would you buy?"
I went to the kitchen and looked around at the tools and NONE of them were inspiring enough to recommend. You know what was? Containers. Yep. How strange is that? I didn't see that coming.
So, we all can use a little inspiration. Maybe one of these will help you spend your next $100 on Amazon.
Bit #1
These wine glasses are delightful to hold and sniff with. Really. Gabriel-Glas makes 'em and apparently they are crystal. Available for $66 for 2 or in a pack of 6 right now on Amazon.
Bit #2
We all need a carafe. You put your water in there, or whatever.
Consider this crystal one from Zalto. It's not currently available on Amazon. Search "Zalto Denk'Art Carafe No. 75 Hand-Blown Crystal Wine Glass" in the Google machine. Then grab the size #28 cork plugs to keep the bugs out (Amazon).
Bit #3
This Japanese style double (1oz, 2oz) jigger by Viski is a favorite in the house. It both cleans easily and is visually clean. There are partial oz measurement lines inside the two sides as well. For $9.99 you can get two of these and still have $80.02 for other things.
An extra bit
After drafting this post and returning to edit it I noticed I forgot our favorite summer wine glasses. Grab a set of 4 of these Govino shatterproof and recyclable glasses for the patio - now just $24.95.
On Your Way
Hope these were inspiring. :) Enjoy!
 —Joseph
Follow Vivront.com on TikTok, Instagram and Facebook.

Come to the rescue. Obtain aid for your knife by mail. Order your kitchen knives sharpened or give the gift of sharp at Vivront.com. Learn more about sharpening by mail.