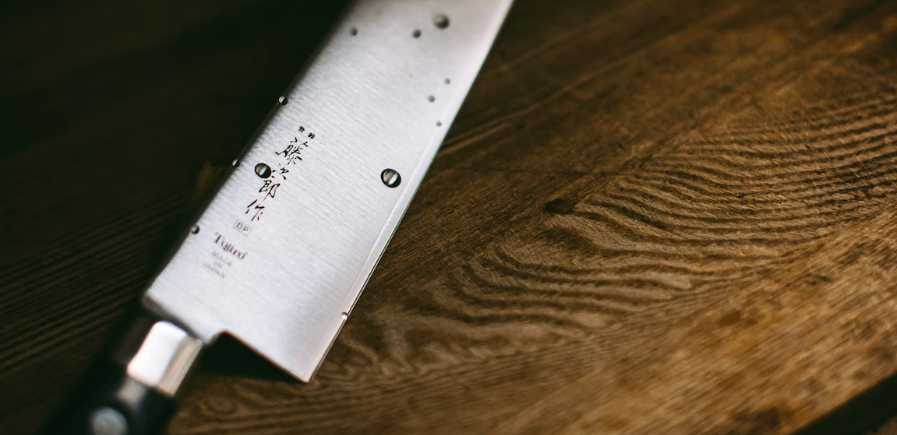 Kitchen Knife Storage. A Magnetic Strip? A Drawer Block, A Knife Block or Other?
Storage
When assessing the best way to store your knives it can be easy to forget why you're doing it. Most store knives in order to not have them out all the time and or to make them look great. More is going on in this simple act of storage.
When looking for a knife holder, whether it be a magnetic knife holder, a knife block, a wall mounted solution, a knife rack or the best countertop solution for your kitchen knives consider 1) cutting edge protection and 2) blade moisture.
Pick a solution that will keep other knives from running into the knife you're storing. This the best way to reduce the potential for damaging the knife and to extend its sharpness. Further, select something that will shed moisture, especially for high carbon knives as they rust more easily.
Magnetic knife holder
The best magnetic knife holders can be both elegant and practical for your knife set at the same time. Strong magnet designs can hold steel and stainless steel knives in place while also allowing air to circulate around the blades, moisture to fall due to gravity and to reduce the potential for rust on the blades. Magnetic knife holders store blades both vertically and horizontally as a strip or in a countertop design for a magnetic rack.
Installation of a metal surface on your wall can be tricky. While wall mounted magnetic holders are lovely they require finding studs, staying clear of electrical and often mounting the knife holder to specialized anchors to install.
Note, because many kitchen tools are made of metal, magnetic holders can be used to store more than knives alone. A magnetic rack can have strong magnets that can also hold a tongs, spatual, whisk or the like.
Drawer blocks
Knife block solutions for drawers are not typically designed with an integrated magnetic knife strip like the magnetic knife holders above. Rather, these knife holder solutions are intended for drawer instances where gravity keeps knives in place, often in groves (sans a magnetic knife strip).
These holders are often made of wood and are designed to stager knives to save space and to make them easy to retrieve. Because they are wooden they can also soak up humidity while they keep knives sharp by limiting movement in the drawer holder.
Installation is free of magnets or anchors and is often accomplished by simply placing the material holder in the drawer an inch or so from other items. This can save space on your countertops and create a clean surface for other kitchen activities.
Countertop knife blocks
Often made of wood, these knife blocks are both easy to access and more prominent than a magnetic knife holder or a knife block in a drawer. However, like a magnetic strip or drawer block solutions these holders do a great job keeping knives sharp and dry.
In select instances modern countertop knife blocks incorporate magnetic characteristics. Arguably, this can provide a best overall solution in that the knives are easy to access, stay dry and are visually interesting because a magnet can be made to seem to float.
Installation is as easy as taking it out of the box and setting it on the counter. Maybe it goes by the fridge? Maybe it takes a space near the stovetop or prep area. Either way you'll be able to safely store knives so you're ready to crank through recipes and make great food.
Knife sleeves
Want to skip the bar and the metal and the racks? Not into the modern wall mounted magnetic holder or a magnetic take on a traditional knife block on a counter? Great, skip the knife racks all together. The best budget solution might just be knife strips.
These are not made of wood (unless they are from Japan) but rather a plastic that has been bent. You simply place each blades knife edge between the two sides of the plastic material and slide the knife in the length of the blade.
Knife storage
Whatever knife rack storage you select for your kitchen knives, be it for stainless steel knives, high carbon knives or the best material look a feel (wooden, metal magnetic or modern), remember to select a solution to keep your knives dry while also keeping them from bumping into each other. These two features, no matter the knife block you select, will keep your knives more safely in your kitchen while extending the life of their sharp cutting edges to boot.
May you have many fond memories of cooking food in your kitchen both for yourself and for your friends and family, no matter the solution you select.
Happy Cooking!