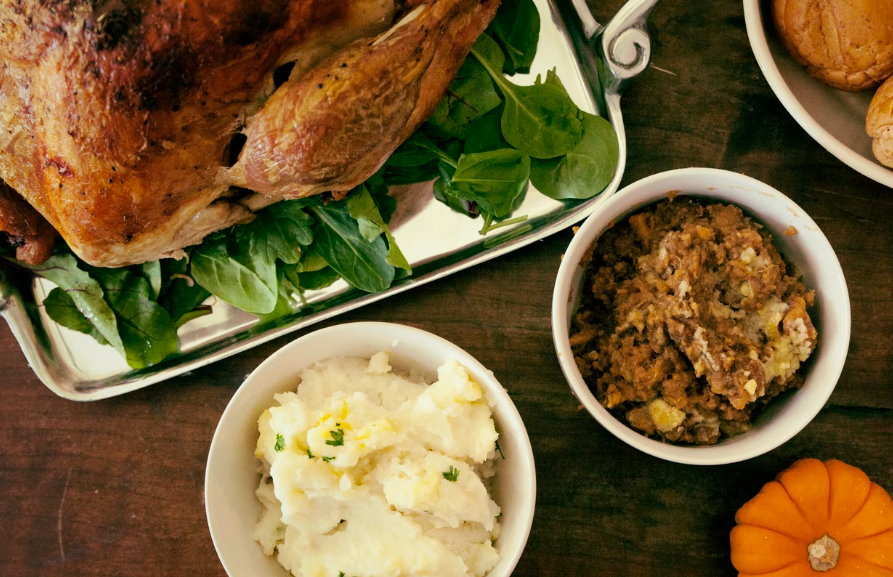 Temperature of cooked turkey: How hot should cooked turkey be cooked
We've been cooking to temperature for years now. The decision was made in our 30's when the children were served pink chicken one too many times. Opps. That was enough. We were done cooking to time. So, we're not interested in turkey cooking times either. Rather, we're interested in what the best temperature for turkey might be. We wonder, at what temp is a turkey considered cooked and is there a correct temperature for turkey? 
But, what temperature makes sense to cook a turkey? 
Following ThermoBlog, from ThemoWorks and the makers of our favorite meat thermometer the Thermapen, the first step is to thaw the turkey before setting the turkey cooking temp. A frozen turkey will cook unevenly regardless of it being in a roasting pan or not. Make sure it's completely thawed before you cook.
Then target the internal temperature your turkey's temperature to be 157 degrees fahrenheit. This can be measured in the thickest part of the breast meat when cooking turkey. You can measure this easily with an instant read thermometer. Cooking times will vary based on the size of the turkey meat and the part of the bird (e.g. breast meat vs thigh meat). This is true on the other side of your oven door no matter which oven rack your turkey is on.
ThermoBlog follow the USDA here for the safe temperature of a cooked turkey with reference to the temperature hold time. This will help the whole turkey from dark meat, turkey breast and the like to have the chance to be tender meat when you're done.
Remember to let the turkey rest. Maybe a half hour makes the most sense for a perfect turkey. It could just sit a top of the oven. Consider covering it in aluminum foil. That's up to you.
Cutting Turkey
It's no secret that carving a turkey can be unpleasant. Use a dull knife like the rest of America and it's even worse. There is not enough football on to hide a ripped and torn turkey. Moreover with a sharp knife you'll experience more flavor in your thin and thickest portion of meat because you won't be squishing flavor out in to the pan juices.
Thanksgiving dinners require knives that are sharp enough to cut through all those layers of meat and veggies. That's where we come in. We sharpen kitchen knives with a mail-in service, which helps you carve your turkey with ease.
Order your knives sharp before the big day. Start today. 
Then, you can keep your knives razor-sharp with our mail-in sharpening service on an ongoing basis. Or, simply share it with your friends and family.  
Summary
We hope you enjoy happy cooking for the holidays be it Thanksgiving morning with or with out Thanksgiving turkey. Now that the question of the temperature of a cooked turkey has been answered you know what temperature to cook a turkey. Enjoy!