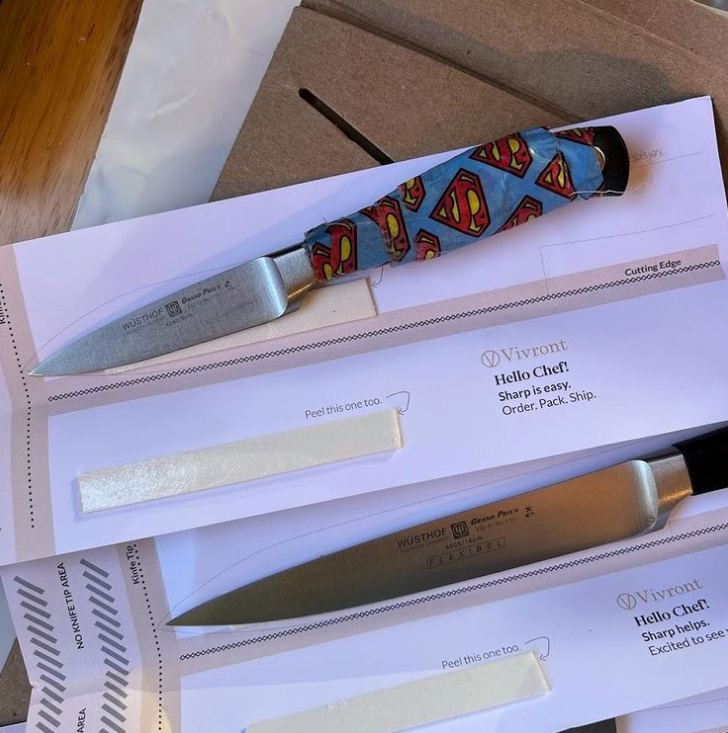 Sharpening your knives online might seem like a curious idea. But, it's no longer the year 2000. In the age of the internet and logistics we can eliminate many previous errands with a few clicks and taps from our home. And now, knife sharpening is among those eliminated errands through the wonders of the online world. 
There are five easy steps to the process of online knife sharpening. Here is a quick spin:
#1 Want an easier way
That's it. You just have to first want an easier way. Gone are the days of the hassle of finding someone "near you." Or, driving there during business hours. Or forgetting to do it all together. All you need is the browser in your pocket and a desire to make this errand easier.
#2 Order at Vivront.com
Head over to Vivront.com and select from the sharpening options. Do you want loaners? Do you want a gift card for a friend or family member? Either way, make your order and we'll get your knife shipping package on it's way to your doorstep. 
#3 Pack your knives
It's easy with our custom packaging. A peel of a thing here, as stick it there, and viola. Your knives are ready to ship in just a few minutes. Really.
#4 Ship 'em back
Find a postbox near you. You might not find a closer knife sharpener "near me" than your mailbox. It's really that close. And they are tracked and insured with free shipping both directions.
#5 Receive sharp knives
We're as fast as we can be in sharpening and returning your knives. It can take as little as 3 days. It's our practice to sharpen and have your knives back in the mail in under 24 hours. All you have to do is ready your next recipe. 
And, that's it. Easy online knife sharpening in 5 steps. First you have to want to do it. Then you can order, pack and ship your knives to us. All that's left is to enjoy them when they return. Enjoy! 
###
What Next? 
Great question, order your knives sharpened to receive your mail order sharpening package to send to us. We'll pay for shipping, insure them in transit and turn them around sharp! Or, at minimum, join our email list via the footer on this page! It's nice to meet you.